It's amazing the things we take for granted. Seriously...
Like good plumbing. There is nothing quite so lovely as a properly draining bathtub.
I live with one of my sisters in a very cozy little cabin and for the most part I have no complaints with this set-up. It's fantastic.
But it is a very old cabin and the plumbing in the bathroom is pretty rotten. I hate to say that, but it is so.
There seems to be a continual contest between the toilet and the shower to see which can clog more. They never do it at the same time, either, which makes it very frustrating when the plumber comes because he'll fix one thing and then a few days/weeks later the other has to prove it too can be a bother. And then the plumber has to come 'round again.
Now, I can handle a slowly draining shower much easier than a clogged toilet for reasons I'm sure you'll all be able to figure out. :) However, I don't really enjoy the way the water just sort of pools and laps around my ankles. Still, I've lived through worse things. No biggy.
But for the past week/week and a half, the shower has been
un-bee-lievably
slow. It took the blasted thing three days to drain. Not cool.
So the plumber came, fine fellow that he is, and fiddled around in the bathroom for about 10-15 minutes and proclaimed the 'all-clear.'
So then I showered. *Aaaah!* Bliss.
A draining shower is a truly remarkable thing.
Also, food. Yes, I said that. Food.
I love food all the time. I have a great appreciation for good food and I absolutely love baking and cooking.
But I usually only realize this during Lent.
Lent is a time of penance before Easter and as such Catholics try to give up things they like, maybe make some extra sacrifices or say a few extra prays.
That usually means no sweet things...no baking cookies. (Though Sunday is a day of rest, a day 'off' so to speak and cookies are definitely
in
on Sundays. Just so you don't think I'm super-human or anything. LOL.)
Anyway, I was making a batch of cookies for a friend of the family as a sort of 'just because' thing and I was merrily whistling and measuring the sugar, butter and peanut butter into a bowl. I creamed them together into a grainy, fluffy mass. Then I pulled out the oatmeal and measured in a nice amount of that in as well. And I paused, looking at the way the golden sugar and the oats complemented each other and I said, "You know, oatmeal is a beautiful thing." *Nods* I actually said that. I thought about what I said for a second and snickered. "You know it's lent," I added, "when you say things like, 'oatmeal is a beautiful thing.'"
My sister, siting out in the living room agreed and put in her two cents. "You also know it's lent when you can
smell
the ingredients being put into a bowl and think, 'my! That smells fantastic!'"
It is definitely Lent.
I am forced to admit that I may have another 'favorite' actor. :D I want to point out first, that I went for
years
without ever having any actors that I was all that partial to.
That has changed. I have a handful of 'favorite' actors now.
I'm just trying to show you that I don't like lots of boys. I'm not boy-crazy. *Snicker.*
Anyway, last Sunday a few of my sisters and I settled down and watched 'The Eagle.'
That. Movie. Is. Awesome.
I am a tiny bit infatuated with it. Don't believe me? Check out my
Movie Board on pintrest
. ;)
I really liked Marcus. He was a cool Roman soldier and all that. There really wasn't anything
un-
likeable about the fellow.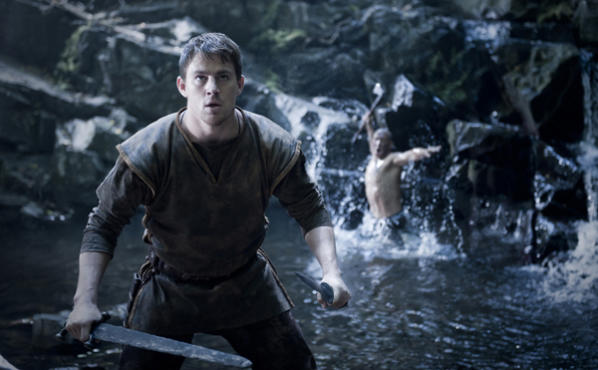 But the second
this
fellow came out I was on his side. :) Jamie Bell. You, Sir, did a great job as Esca.
Jamie Bell. New favorite actor.
This movie has a really good friendship story, and I'm very pleased to say, there is absolutely no romance. There isn't one female character. Don't get me wrong, I like a bit of romance. What girl doesn't? I just like my action movies to concentrate on the mater at hand. *Wink*
There's loads of riding. *Happiness!*
"The invasion of the hot Italians."
Since I'm a bit rubbish at doing movie reviews other than saying how awesome I thought they were, I'm going to make this easy and just post the trailer. It sums things up quite nicely.
There is some swearing, (though I don't remember there being much) and it's a bit violent, but tactfully done violent. Kind of like the Lord of the Rinds battle scenes. And there is one kind of strange bit with the Picts doing a dance thing around a fire. Not bad, just weird. :)
Sorry for the rather alarming length of this post. It kind of got away from me a bit!
Don't forget to check out the
Giveaway
!
God Bless.
Amy